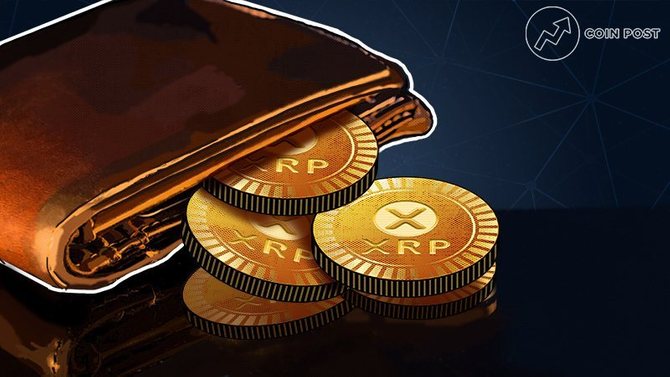 Ripple wallet is a place to store the native XRP network token. There is currently no official Ripple wallet, therefore, as an XRP repository, you should choose one of the popular options, for example, Toast Wallet or Exodus.
One of the main questions that investors are worried about is where to store Ripple conveniently and safely. The answer to it cannot be unambiguous, since there are many options for storing XRP. Choosing the most suitable Ripple wallet will depend on the personal preferences and goals of each investor.
How to Create a Ripple Wallet
To create a Ripple wallet, you need to perform a couple of simple steps: 
Choose wallet. It can be a desktop, mobile or online wallet. To store large amounts, choose paper or hardware wallets. 
Download the software if you are using a desktop or mobile wallet. It is recommended to download only from the official website of the developer. 
Register in the wallet.
Configure security and two-factor authentication.
The wallet is ready to use!
If you want to know about all the nuances of choosing, installing and configuring a wallet for Ripple, read below.
Storage Ripple Methods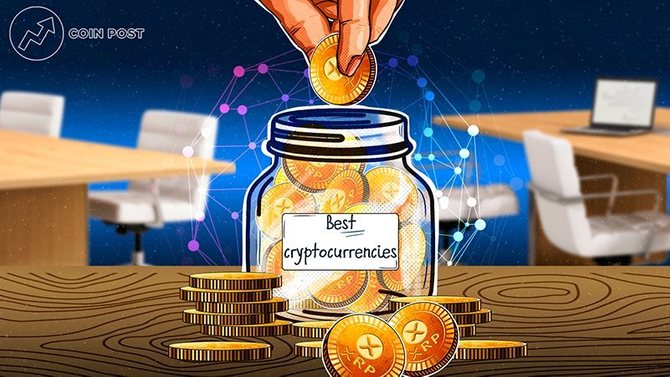 All available ways to store Ripple can be divided into the following categories:
Desktop wallets;
Hardware devices;
Online Wallets;
Mobile Wallets;
Storage on the exchange;
Paper wallets.
Each of these options for storing XRP has its advantages and disadvantages. And now we will consider each of them in more detail. 
Before you start exploring Ripple wallets, we recommend that you watch a short video that gives an overview of different ways to store Ripple:
Official Ripple Wallet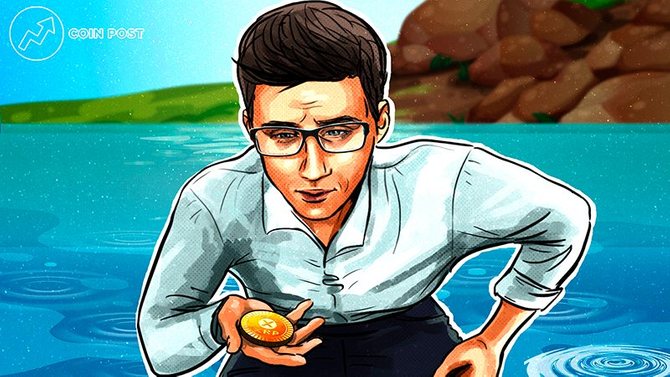 You should immediately say that there is no official Ripple wallet, developers in official channels do not give recommendations regarding the choice of one or another third-party service and assign all responsibility for the safe storage of XRP assets to users. 
Many believe that GateHub is the official Ripple wallet, since users of the RippleTrade trading platform were redirected to it after it was closed.
However, the developers claim that they are not related to this web wallet and recommend using it among other sites for the purchase and storage of XRP solely because of its credibility. 
Also a very important point regarding the creation of a Ripple wallet in any environment — Ripple requires a minimum of 20 XRP to activate an account. And in the end, this amount will act as a reserve — it cannot be withdrawn. 
And if with the current Ripple course creating a new wallet will cost you only $ 5, then when it goes up even to last year's highs ($ 3.3), you will have to pay more than $ 60. This nuance must be taken into account when choosing a Ripple wallet, trying to immediately decide on the most suitable option for yourself. 
Ripple Desktop Wallets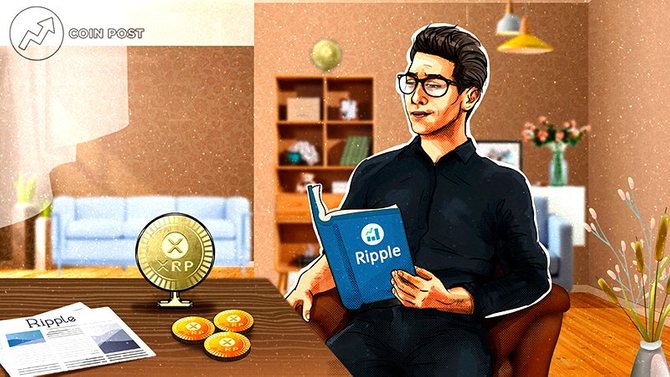 As with other cryptocurrencies, desktop wallets are one of the safest ways to store ripples. 
Previously, Rippex was considered the most popular application of this type. However, last spring, this project ceased to exist.
Now the most popular among users is Toast Wallet — an open-source Ripple wallet. Initially, it was only available as a PC application for Windows, Linux, and Mac OS. However, now there are mobile versions for Android and iOS, as well as an extension for the Chrome browser. 
Toast Wallet is free and does not require downloading the entire blockchain to a computer, i.e. is a representative of "thin" cryptocurrency wallets. Its installation is carried out in a couple of clicks in just a few seconds. Using a wallet is also very simple, thanks to its intuitive interface.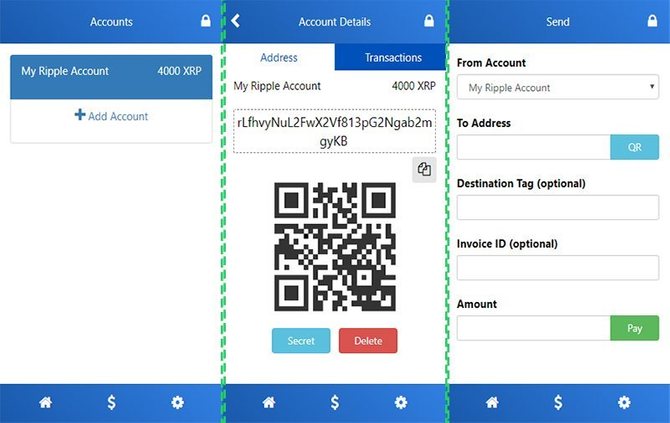 The main advantages of Toast Wallet are the local storage of private keys of user wallets on a PC, the ability to make offline transactions and a high level of security. 
Among the disadvantages, one can only highlight the need to purchase 20 backup XRPs to create a new Ripple wallet. Although, as described above, this is a feature of the Ripple network, and not a whim of the developers of a particular application. 
If for any reason Toast does not suit you, you can pay attention to the desktop versions of the universal crypto-wallets Exodus and Atomic Wallet. 
Ripple Online Wallets
The most popular web wallet where you can store Ripple is GateHub — an online platform with support for several types of assets, the main currency of which is XRP. 
GateHub has been operating since the beginning of 2016, has a huge database of active users, a friendly interface, XRP exchange rate tracking and buying / selling function for fiat currencies, a convenient statistics service and a fairly high level of security.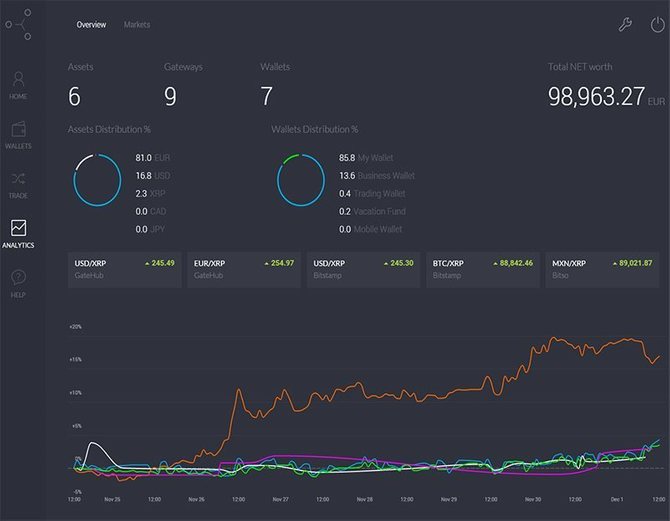 A serious drawback of this online wallet is the need to undergo verification in order to gain access to the functions of creating a Ripple wallet and conducting transactions. For adherents of anonymous decentralization, this factor can be a major repulsive argument. 
In addition, from time to time, user reviews about delays in withdrawal operations from GateHub appear.
An alternative could be the less popular, but still much-loved by its simplicity and reliability, Ripple web wallet called Exarpy. Its feature is an additional security measure when creating new Ripple wallets in the form of the need to temporarily disconnect from the network during this process.
Otherwise, it's a fast and convenient Ripple online wallet with a minimalistic interface and low fees, which can be used on almost any device with modern browsers. There is a system for protecting funds from unauthorized access in the form of the need to enter the PIN and the activation code of the account by the user.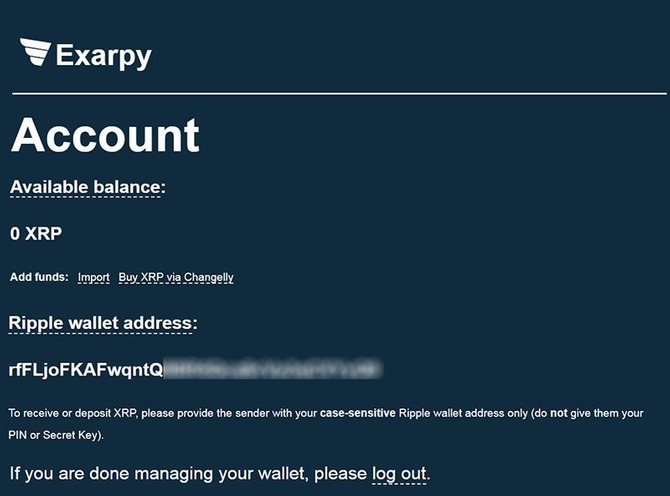 Among the shortcomings, we can mention only the English-language interface, the lack of two-factor authentication and closed code.
Hardware Wallets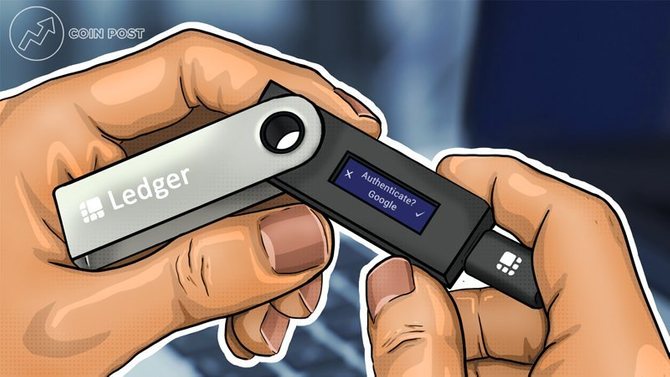 Ripple hardware wallets are not as popular as desktop and online. However, in terms of security, they are in the first place. In addition, these small portable devices can be repositories for billions of dollars in cryptocurrency equivalent. 
Wallets of this type, designed exclusively for storing Ripple, do not exist. But among the hardware multicurrency devices, there are still several models supporting XRP: Ledger Nano (Blue, S and X), Trezor and CoolWallet S. 
All of these Ripple wallets can be stored offline, but to complete transactions, you will need to connect to a computer with Internet access and pre-installed official software. 
The only drawback of such hardware devices is the price ($ 60–200). But, given their level of security and reliability, we are talking more about a fair payment for confidence in the safety of their funds, rather than a lack.
Ripple Mobile Storage Wallets
Given the modern gadgets of society, it is easy to come to the conclusion that the place where XRP is most convenient to store is Ripple's mobile wallets. Their main advantage is the ability to access assets from a smartphone from anywhere (subject to the availability of Wi-Fi or mobile Internet).
But if we talk about security, then this type of wallets is considered the most vulnerable, in particular, due to the spread of viruses and malicious applications that steal private keys on mobile platforms. 
The best option for storing ripples in this category would be the mobile version of Toast Wallet, which can be downloaded from the link above. 
You might also consider using multi-currency mobile wallets with Ripple support like Coinbase Wallet, Jaxx, or Edge. 
Storage of Ripple on Cryptocurrency Exchanges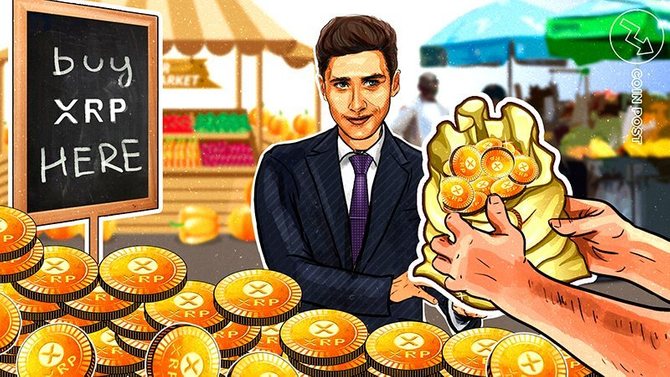 As a rule, cryptocurrency exchanges choose to store Ripple those who often make trading operations. However, choosing a site like this, it is worth remembering that you will not have private keys for wallets with assets. And this is a significant risk, given that crypto exchanges are often subjected to hacker attacks, as a result of which attackers steal user funds. 
Therefore, it is recommended to keep on the exchanges only those Ripple coins that are actively used in trade. In this case, it is desirable to distribute funds between several sites in order to diversify risks. 
At the same time, the creation of a wallet for storing Ripple on the exchange in most cases does not require the mandatory purchase of 20 XRP to activate it, as is the case with all other methods. And for many, this is a powerful argument in favor of storing Ripple on cryptocurrency exchanges. 
Today, there are hundreds of sites that support XRP, but you should choose only the most reliable of them, e.g. Bitstamp, Binance, Kraken, Bittrex, CoinOne, Huobi, Bithumb, UpBit. 
Ripple Paper Wallets
One of the most reliable ways is to store on Ripple paper wallets. It can be either a sheet of paper with a manually recorded address and secret key, or a printout with similar data from a specialized service. 
For example, the site of the XRP explorer Bithomp offers the opportunity to generate a new address and print a paper wallet.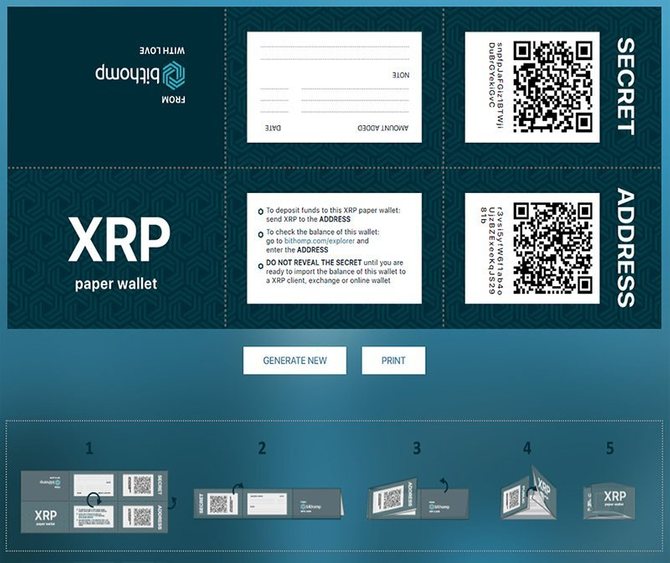 Also for this purpose, the web resource xrppaperwallet.com is suitable. In any case, in order for the printed wallet to become active, you will need to fulfill the same condition of the Ripple network — replenish it with 20 XRP reserve coins. 
In addition, access to your assets can be obtained by anyone who falls into the hands of a lost / stolen paper wallet. 
What is the Best Way to Store Ripple in 2020?
No matter where you store XRP, it's important to remember to take precautions such as backing up data to restore access to assets. private keys, backup phrases, etc.) in several copies on reliable media, preferably disconnected from the network.
Otherwise, everything will depend on your preferences, goals and desire to secure XRP assets:
For long-term storage of serious amounts, it is best to use Ripple hardware and paper wallets, or at least desktop ones;
Exchanges are suitable for daily trading;
Mobile wallets should be used only by advanced users who are confident in the security of their gadgets;
Online wallets are suitable for almost everyone, but storing all their Ripple coins on them is still not recommended.
An ideal option would be a proportional distribution of your assets between different types of wallets in order to level out all existing risks as much as possible.
Read also: