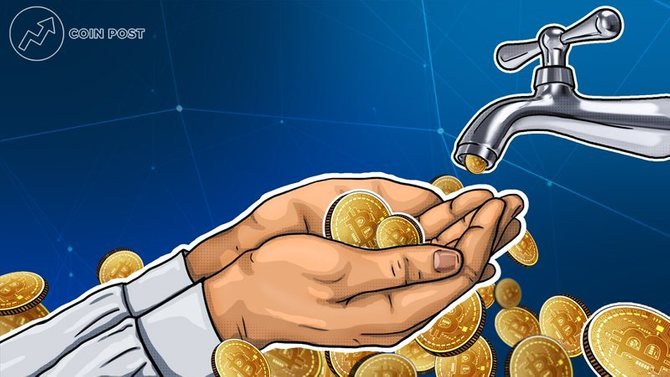 Bitcoin faucets is an application or site that charges a small amount of Satoshi for performing simple tasks. Basically, this is viewing ads or entering captcha. Tasks are available at intervals of 10-15 minutes.
From a cryptocurrency point of view, a bitcoin faucet is a website that distributes bitcoins or other coins. Moreover, you can earn free cryptocurrency, if not counting, users performing simple tasks such as captcha, polls, games or downloading applications. What is the point of distribution? It's simple: this ensures the adoption of cryptocurrency, well, a considerable income to website owners. 
Further, what are bitcoin faucets, their types, selection criteria and how to withdraw earned funds. We have also prepared for you a list of the 7 best, in our opinion, bitcoin faucets.
What are Bitcoin Faucets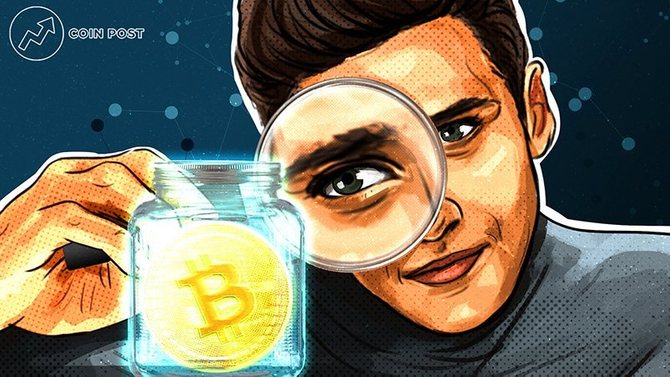 The first ever bitcoin faucet was launched by Gavin Andresen in 2010 - a year after the creation of Bitcoin itself (BTC). Initially, a bitcoin faucet gave users a reward of 5 BTC (!). Naturally, the value of the coin at that time barely reached $ 0.01, and therefore the payment did not seem generous. In total, a site visitor earned $ 0.05 for viewing ads or performing some other simple task. Now, given the current coin price of $ 8,000, that would mean that Gavin was offering almost $ 40,000 dollars for a captcha solution! Imagine! 
The Bitcoin crane was launched in order to disseminate information about the cryptocurrency and attract the attention of as many people as possible. 
In addition, for beginners, who for the first time enters the crypto space and does not want to take risks for various reasons, sometimes buying assets with excessive volatility, Bitcoin faucets are a great way to not only save up some coins, but to master the work on the blockchain, learn how to manage a bitcoin wallet and enter into bitcoin transactions. 
Bitcoin faucets are sites that give out a small amount of bitcoins (or Satoshis) absolutely free at certain intervals. There are a lot of such sites, they are not identical and extremely popular.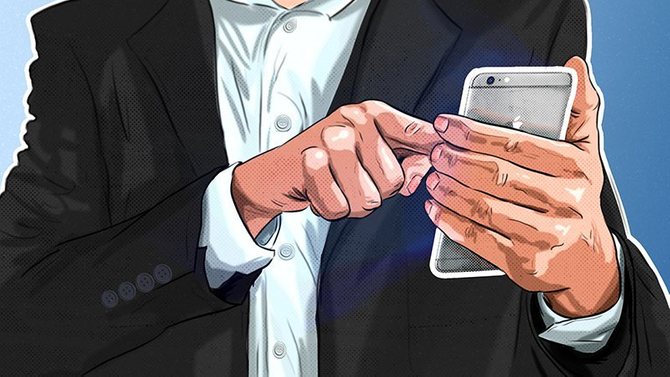 Performing various micro actions — polls, games, watching movies or advertising, downloading applications, etc. - users get a certain amount of Satoshi, which are bitcoin microparticles.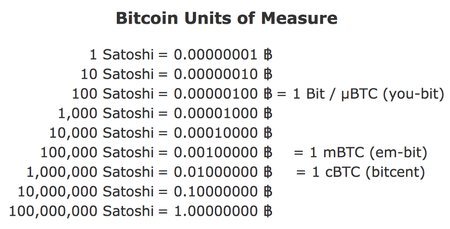 In turn, site owners receive advertising revenue, depending on the number of impressions of advertisements (CPM). In this way they offset their expenses. Obviously, for a site - the more visitors, the better. And bitcoin faucets, distributing Satoshi, contribute to this. 
How to Make Money on Bitcoin Faucet
Collect the necessary amount for withdrawal;
Everything is quite simple, but there are some pitfalls that we will talk about in more detail in our review. 
Types of Bitcoin Faucets
There are two main types of bitcoin faucets:
Faucets with instant output;
Faucets with recurring payments.
The first group of faucets provides an immediate withdrawal of funds to the wallet. The user creates his own mine and makes profit from it. By the way, casinos also belong to the first group of faucets.
For today, the portals of this group are very common.
There are also a lot of bitcoin faucets with recurring payments. Withdrawals from them can be made either daily or once a week. The conditions for withdrawing funds depend on the rules of a particular project.
Choosing Bitcoin Faucets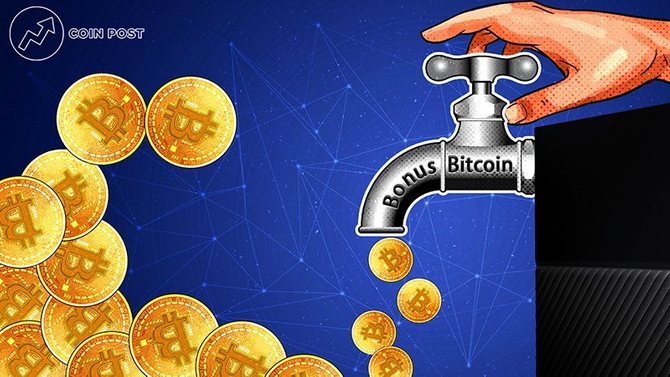 Now that we know what a bitcoin faucet is, its types are a general idea of how it works, the question is probably relevant - but how to make money on it?
You need to start by choosing a faucet. The amount of income depends on how successful the choice will be. It is also necessary to take into account the fact that there are fraudulent bitcoin faucets that do not pay remuneration to their users. 
Also, do not limit the choice to one, the only faucet, otherwise you can seriously slow down the rate of earnings, and it will take a lot of time to get at least some income. 
When choosing faucets, you should pay attention to the following criteria:
Suggested amount of satoshi;
Payout frequency;
Minimum to withdraw the asset;
Bonuses
Reputation
If the site claims to be ready to pay half of bitcoin per day, then be sure — this is fraud. 
To avoid cheating, you need to carefully study the faucets, read more user reviews about it. So, first of all, be interested in how much you will be paid for one "click". 
Another "divorce" is associated with a minimum withdrawal of funds: sometimes it is so large that it is simply unrealistic to achieve the required value for withdrawing rewards. Keep in mind!
Be sure to ask if there are bonuses and which ones. For example, such as a referral commission for attracting new customers. 
It is very important to look for a link to a specific bitcoin faucet exclusively on "live" forums with real branches, otherwise a scam site will be easily thrown to you. It is better to dwell on services that have been successfully working for at least 6 months. 
So, you have chosen four or five reputable sites and applications, then you need to determine the rotation of each of them. It will take time, but then you will have nothing to worry about; everything will depend on your activity. 
Receiving Payment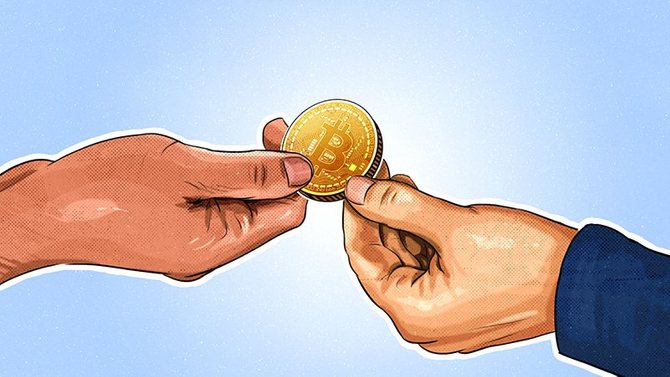 When you are ready to get your satoshi from your favorite bitcoin faucet, you need to create a cryptocurrency wallet that accepts BTC. Our section about Bitcoin wallet will help with this. Where there is a large selection of different wallets. 
You can also open a micro wallet to collect a small amount of satoshi before transferring it to the main storage.
Using the generated Bitcoin address, rewards will be sent directly to your wallet. However, most faucets will not allow Satoshi to be withdrawn until a certain amount has accumulated. If you use microwallet, then usually there is a limit of 10 000 Satoshi before the funds will be automatically transferred to your wallet. 
If you work 40 hours a week, i.e. standard working day then for a month, with a five-day work week, your earnings on one faucet will be 1,408,000 satoshi (about $ 110 at the time of writing an article).
You can convert the value of Satoshi into various currencies on the site here.
Moreover, the frequency of receiving remuneration is often limited by the developer - for example, he gives a reward only once every 20 minutes or within 1 hour. 
The Best Bitcoin Faucets in 2020
Small clarification: the rating of such sites is in constant motion, because our list is by no means exhaustive or final, but definitely, these faucets will not fail. 
The rating of Bitcoin faucets in 2020 is based on those sites that worked and paid in 2019, and which are relevant today
Cointiply Faucet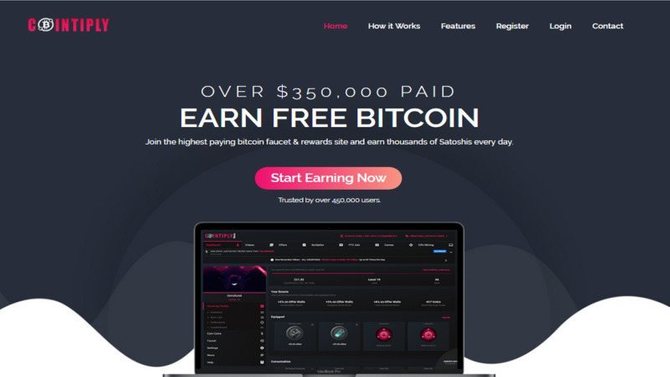 Cointiply is one of the leading Bitcoin faucets used by nearly a quarter of a million users, such as watching videos, browsing games, installing apps, visiting web pages, and more. 
Among other features — a generous system of rewards, bonuses and commissions. Cointiply allows you to earn interest by accumulating BTC in your wallet. For instance:
Plus 5%, if the account has a minimum of 350,000 satoshi: so, you can deposit BTC for a larger percentage;
Loyalty bonuses from 1% to 100% on daily applications and prize points for completing tasks: the user can increase his rating;
25% of referral commissions for the involved user and 10% of his income;
The proposed reward varies from 200 to 300,000 Satoshi with a filing time of 60 minutes. Bitcoins are paid directly to the user's bitcoin wallet after how assets earned reached a minimum threshold of 100,000 satoshi. You can get paid to your FaucetHub account as soon as at least 35,000 Satoshi ($ 2) have been collected. 
In addition, the Cointiply team is very active in the Bitcointalk forum, answering questions and helping new users. The site does not immediately request a bitcoin address when signing up, so you can add it later when cashing out money. Conveniently? Of course. And it means that right at that very moment you are able to start earning BTC. 
Bitcoin Aliens Faucet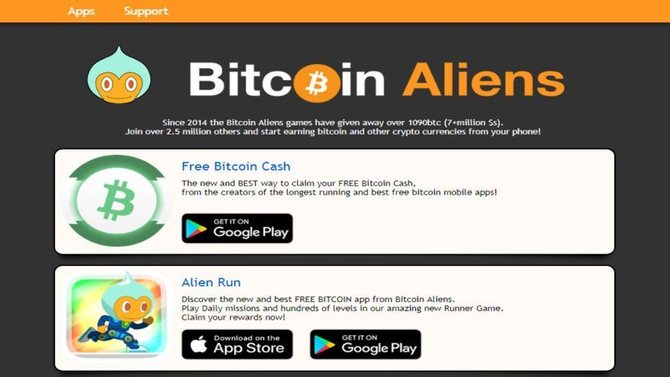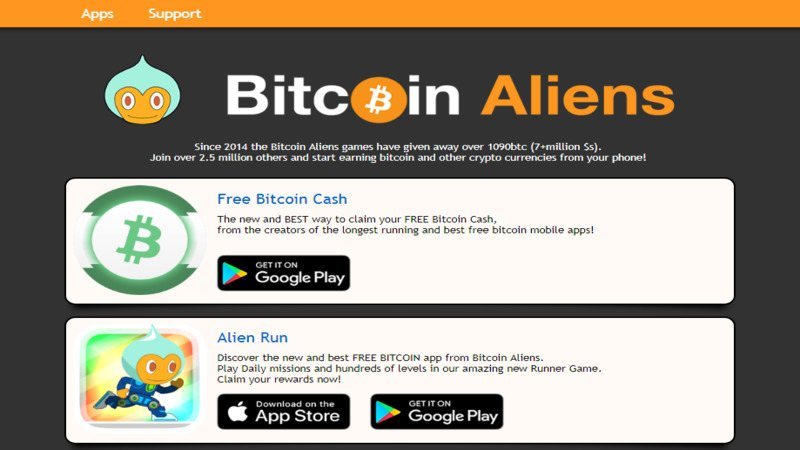 Bitcoin Aliens is, by the way, the most fun bitcoin faucet in our top. Users receive rewards for completing fun tasks and participating in games. Bitcoin Aliens also offers one of the highest average payouts in the market of up to 9,000 Satoshi every five minutes! 
The site claims that since 2014, users have been paid more than 1,090 BTC (about $ 9 million at today's BTC price). In addition to bitcoins, you can earn Ethereum (ETH) and other digital currencies, literally playfully. By the way, the smartphone application is available for download on the Google Play and Apple Store. 
The main functions of the site include: 
Satoshi can be requested every 5 minutes;
Payment varies from a minimum of 135 Satoshi to a maximum of 9,000 Satoshi every 5 minutes;
The minimum withdrawal is 20,000 satoshi;
Payments every Tuesday if the total balance is at least 20,000 Satoshi;
There is a 25% referral commission.
On average, you can have fun making 50,000 satoshis per week. Not bad. 
What else? Oh yes - there are a lot of positive reviews about the faucet on the Internet.
Moon Bitcoin Faucet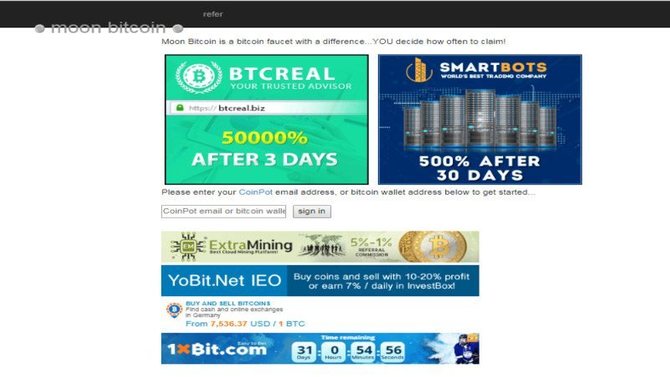 Moon Bitcoin is a faucet that has been operating since 2015. He is considered one of the best. The main difference is that all payments are made instantly and directly to your CoinPot account, which you must open before using this website. The minimum withdrawal limit is 10,000 Satoshi with a commission and 50,000 Satoshi without a commission. 
Features of Bitcoin Faucet:
Allows you to claim a reward every 5 minutes;
The amount of assets earned per click is "small" — from 15 to 250 Satoshi;
The referral program works with a bonus of 1% for each active referral that came through the user. A referral is considered "active" if in the last 72 hours he has submitted at least 1 application.
Offers various cryptocurrencies;
Issues a reward for consistency — if the user requires Satoshi at least once a day, then after 30 days the potential profit will grow by 4.7%.
By the way, the faucet gives daily rewards for entry. Payments are made every few minutes.  
However, do not get carried away too much — the site can block you forever.
Another common condition for all faucets to not enable the ad blocker. Remember, the site earns revenue from advertising, and if you have services like Adblock Plus, it simply won't let you faucet. But overall, this faucet is a great addition to any list of "best bitcoin faucets," so feel free to check. 
Freebitcoin Faucet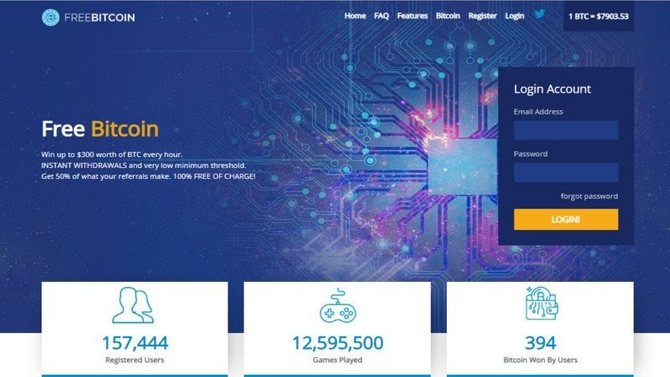 It is interesting that, despite the recent launch in 2018, FreeBitcoin.io has already collected more than 100 000 users and paid users as much as 199 BTC.
A site for fans to quickly withdraw funds with a low minimum threshold of $ 1. 
Moreover, the bitcoin faucet offers the opportunity to win up to $ 300 in BTC every hour. Other  FreeBitcoin features:
Bitcoin payments range from $ 0.0003 to $ 300;
Free weekly lottery;
50% of the referral commission each time the user's referrals are registered on the site.
User must enter captcha once every 60 minutes. The reward is credited to the wallet once a week. Also, when registering with FreeBitcoin.io, do not forget to create a BTC wallet on Blockchain.info to withdraw funds. By the way, this is one of the main cryptocurrency wallets.
Bonus Bitcoin Faucet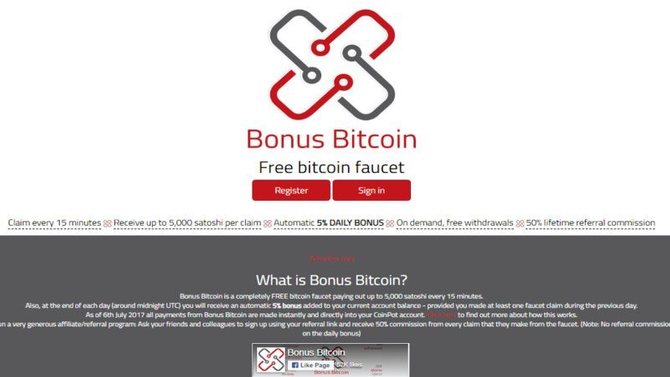 Bonus Bitcoin is actually several different bitcoin-faucets on one site, by the way, the oldest of faucets. After registering on the site, you can choose any of the proposed list of faucets. Allows you to receive rewards from 24 to 5000 Satoshi every 15 minutes, when withdrawal fee is not charged. 
Other features of the Bitcoin Bonus include the following:
Some of the presented faucets support payments in the cryptocurrency Litecoin (LTC), Dogecoin (DOGE) and other cryptocurrencies;
After completing the task, you can go to the new faucet without waiting for a certain period of time;
5% bonus at the end of each day (usually at midnight);
50 percent lifetime commission for referrals.
To withdraw funds, the CoinPot micro-wallet is used. The minimum limit is 10,000 Satoshi, however, any payment below 50,000 Satoshi entails the payment of a commission of 1,000 Satoshi. In addition, the site does not seem to have an active community.
Bitcoinker Faucet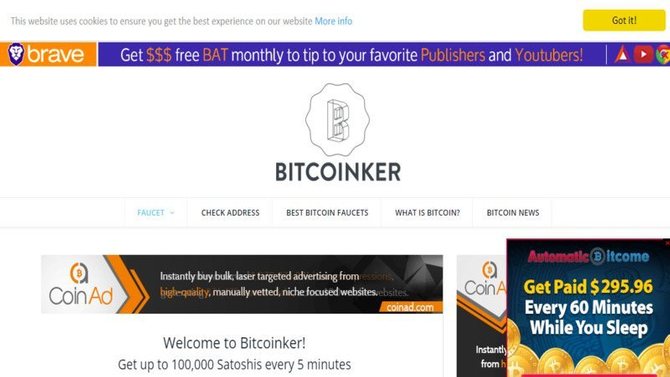 To register on a Bitcoin faucet, Bitcoinker must indicate your Bitcoin wallet. So take care of it in advance. Making Satoshi on this site is as easy as on others by deciding on captcha or by viewing ads. 
Here are the features of Bitcoinker:
Application can be made every 5 minutes;
There is a 10% bonus for long-term use of the site and 10% referral income;
The minimum withdrawal threshold is 20,000 Satoshi and payment occurs on the first day of each month.
However, the site does not have a customer service section, which is not entirely pleasant, since there is no one to make a complaint if they arise. 
Bitnyx Faucet
Bitnyx is another popular faucet for getting free bitcoins. The user may require up to 0.00000030 BTC every 30 minutes (at the touch of a button), which is a pretty high charge.
!!!!The site itself positions itself as a "Bitcoin platform for next-generation faucets."
Interestingly, the owners of Bitnyx approached the matter correctly - newcomers may at first be skeptical about the faucet, therefore, they offer a "try before you buy" scheme, according to which users receive free coins for testing using an "experimental transaction". If the user within a week demands more Satoshi than others, he will win 0.00100000 BTC, or approximately $ 3.63. 
About 85,000 people who use the Bitnyx service so far have made more than 5 million applications during the existence of the site. In total, the site has so far paid a little, more than 1.3 BTC. Say, it is a little? Yes, but what could be more valuable than the first steps into the wonderful world of cryptocurrencies. 
Satoshi Quiz Faucet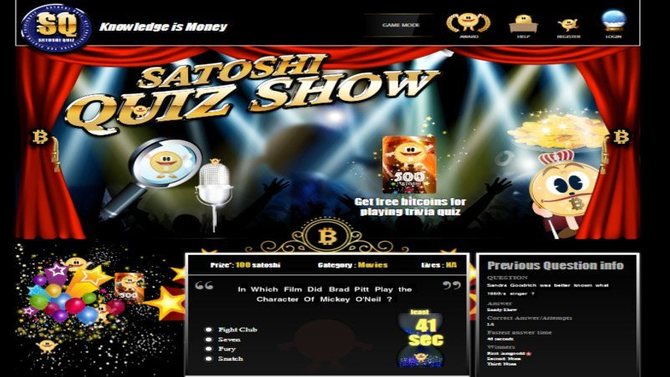 Satoshi Quiz Bitcoin Faucet for users who want to earn BTC for their answers in a quiz. If the user wants to cheat and spy on the answer in Google, he will not succeed — all the questions are timed, therefore, all that is needed is knowledge, the ability to quickly find it in your head and a little luck. 
Despite the fact that the Satoshi quiz is not one of the highest paid bitcoin faucets, paying about 100 Satoshi for correctly answered questions, it theoretically allows you to answer 60 questions per hour - that is, you can earn 6,000 satoshi in an hour.
There are other pluses, Satoshi Quiz processes BTC payments every week (on Sundays) and the minimum withdrawal of earned funds is 11,000 Satoshi. So, if you are confident in your erudition and want to earn free BTC for the correct answers to questions, consider checking yourself at Satoshi Quiz. 
Another way to get cryptocurrency for free is to participate in airdrop.
Bitcoin Faucets with Instant Withdrawal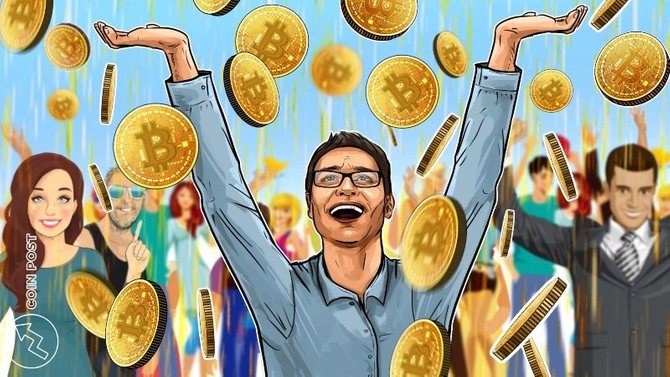 Thus, the funds do not linger in the service, which gives confidence that Satoshi "will not disappear" in case of problems on the website of the bitcoin faucet, related for example, with solvency. Typically, coins are automatically transferred to wallets that support microtransactions, such as CoinPot and FaucetBOX. Therefore, before you start earning on this type of bitcoin faucets, you need to create an account directly in your wallet. 
Below are some of the bitcoin faucets with the option of instant payments: 
BitFun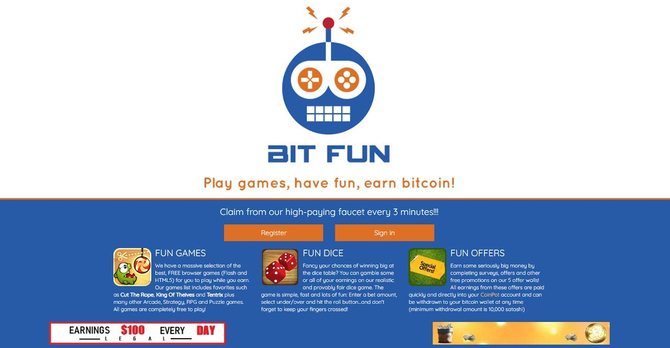 BitFun Bitcoin Faucet offers to earn 1-15 Satoshi every 3 minutes. In order to pass the waiting time for the next batch of micro awards, the service offers users to play or complete tasks, for example, to pass a survey. 
One of the distinguishing features of a Bitcoin faucet with instant BitFun withdrawal is that the number of free Satoshi received grows with every minute spent on the site. The service supports payments on CoinPot micro-wallet.
Fautsy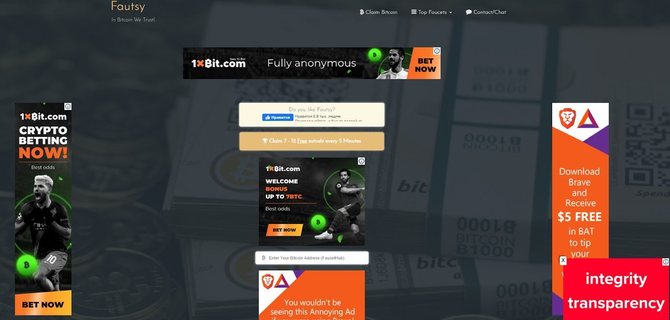 Fautsy Bitcoin Faucet offers to earn 7-12 Satoshi every 5 minutes. The site does not allow the use of VPNs; if you violate the rules, your account may be banned. Supports instant output to FaucetBOX. 
ClaimFreeBTC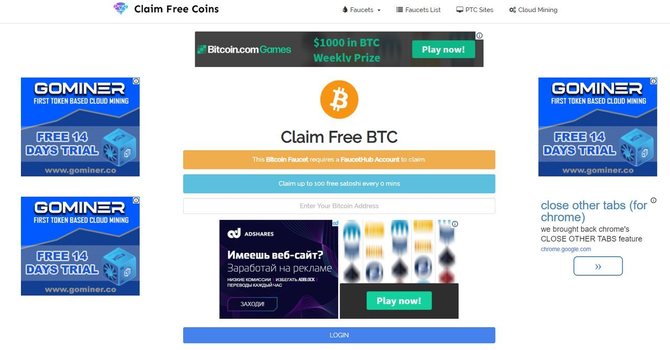 The ClaimFreeBTC instant withdrawal bitcoin faucet offers up to 100 satoshi without a fixed interval, but usually the size of the fee varies from 5 to 10 satoshi. 
ClaimFreeBTC supports instant output to FaucetBOX 
SpeedUpFaucet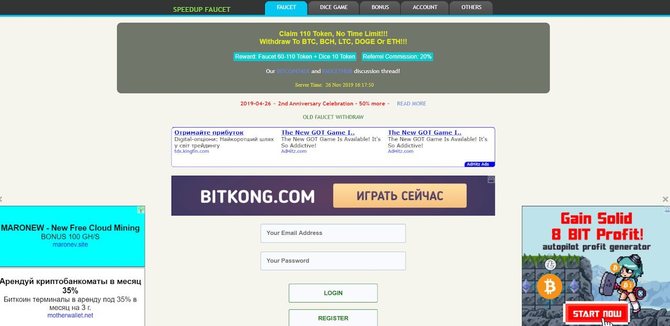 Bitcoin crane SpeedUpFaucet offers to earn from 60 to 110 Satoshi, while there is no timer for the next reward. And this means that you can get coins almost continuously. The site is not allowed to use a VPN. Instant output available on FaucetBOX. 
QueenFaucet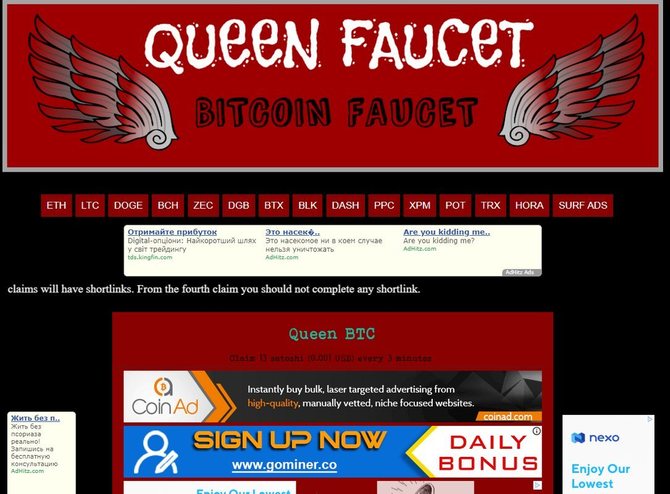 QueenFaucet instant withdrawal bitcoin faucet offers every 14 minutes 14 Satoshi or $ 0.001. In addition to BTC, it supports another 14 altcoins. Therefore, in anticipation of the next portion of the reward, you can earn other cryptocurrencies. Instant withdrawal is made to the FaucetBOX wallet. 
Of course, bitcoin faucets are not a panacea for solving financial problems, but these sites open the way for beginners to the crypto world, and therefore new opportunities that can fundamentally change lives. And this is much more significant than all the rewards offered. However, bitcoin faucets, like any other tool, require a thoughtful approach, otherwise a waste of time, without much impact. 
Video review Bitcoin faucet on YouTube:
Read also:
AdBTC: Login, Registration and Feedbacks
Dogecoin Faucets: Accumulative and With Instant Withdrawal